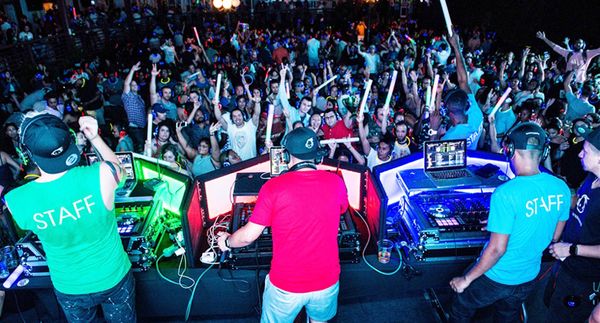 Silent Disco Powered by Quiet Events
November 1, 2019 10pm
Tune into three live DJs spinning 3 different genres of music on stage all night and never leave the dance floor.
Your 3 Live DJs are spinning all night:
DJ 1 (Green): Top 40 Dance Hits
DJ 2 (Red): 80's, 90's & 2K Throwbacks
DJ 3 (Blue): Hip Hop, R&B
Your experience includes:
• A pair of Quiet Events headphones
• Glow in the dark gear
• 3 DJs battling for your attention
Special Notes:
• 21+ to party
• Limited tickets available at the door
• Dress code: Relaxed; jeans and sneakers are fine!
How it works:
With your pair of Quiet Events headphones you can adjust the volume and choose between our three DJ's with the flick of a switch. Each headset has a color LED that shows which channel you're listening to. You can dance along with those tuning into the same DJ as you; it's super social. There's no loud music to talk over and there's no ringing in your ears when you leave!