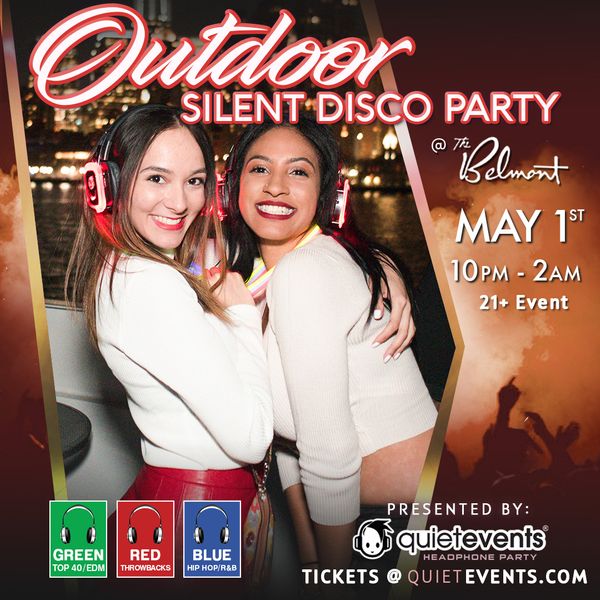 Silent Disco
June 12, 2021 10pm
Powered by: Quiet Events
IT'S BACK!!!!
Tune into three different genres of music all night and never leave the dance floor.
Your 3 Live DJs are spinning all night:
DJ 1 (Green): Top 40 Dance Hits
DJ 2 (Red): 80's, 90's & 2K Throwbacks
DJ 3 (Blue): Hip Hop, R&B
Your experience includes:
• A pair of Quiet Events headphones
• Glow in the dark gear
• 3 DJs battling for your attention
Special Notes:
• 21+ to party
• Dress code: Relaxed; jeans and sneakers are fine!
• Rain or Shine
What to bring:
• Valid ID
• You MUST have a credit or debit card for the check-in process. If the headphones are NOT returned, there will be a $100 charge to your credit or debit card after the event.
• No need to print your ticket, just show the code on your phone or they will have your name at the door.
COVID-19 Safety Protocols in place:
We take the pandemic very seriously as many of our friends and family have been affected. We are doing everything we can to reduce the spread, while trying to keep people entertained, allowing us to generate income for our employees, while staying within the city and CDC social distancing guidelines for activities.
We are aware that the virus does not spread easily from touching objects, but we are still taking steps to reduce as much interaction as possible. All our equipment is wiped down with isopropyl alcohol and wipes will be onsite. We have implemented a touch-less check-in system, where we scan your ticket, ask a few questions, and then you can pick up your headphones.
How it works:
With your pair of Quiet Events headphones, you can adjust the volume and choose between our three DJs with the flick of a switch. Each headset has a color LED that shows which channel you're listening to. You can dance along with those tuning into the same DJ as you; it's super social. There's no loud music to talk over and there's no ringing in your ears when you leave!