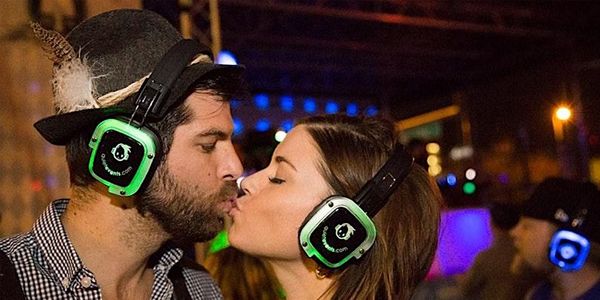 Silent Disco Pre-Valentine Dance Party
February 10, 2023 10pm
This event is open to everyone. Upon check in you will receive either a "green" glowstick necklace signaling you are "single & available," a "yellow" necklace denoting "it's complicated," or a "pink" necklace meaning you're "off the market."
If you're single this is a great and social way to meet someone. If you're in a relationship it's a perfect Valentine's Day Weekend night out that will be memorable and fun. Definitely invite your single friends to come out!
Our DJs will also have all singles switch to certain color channels at different points of the night also to highlight who is single and available.
With swanky interiors, skyline views, and a large open air courtyard with plenty of space to social distance, The Belmont located in the heart of downtown Austin is the perfect spot for a Silent Disco.
Tune into three live DJs spinning 3 different genres of music on stage all night and never leave the dance floor.
Your 3 live DJs are spinning all night:
DJ 1 (Green): EDM/Top 40 Dance Hits
DJ 2 (Red): 80's, 90's & 2K Throwbacks
DJ 3 (Blue): Hip Hop/R&B